How the Fab Five Fared
Since yesterday, the top five cryptocurrencies — Litecoin, Bitcoin Bitcoin Cash, Ethereum, and Ripple — have gone up 1.49% in aggregate. Out of the aforementioned five, Litecoin gave investors the best daily return; it was up 2.5%, which has its price now near $70.51 USD. On the flip side, the worst performer was Bitcoin coming in at -0.68%; its price is now near $10420.88 USD. Out of the five coins observed here, four cryptocurrencies were up — which is a bullish sign for the sector as a whole.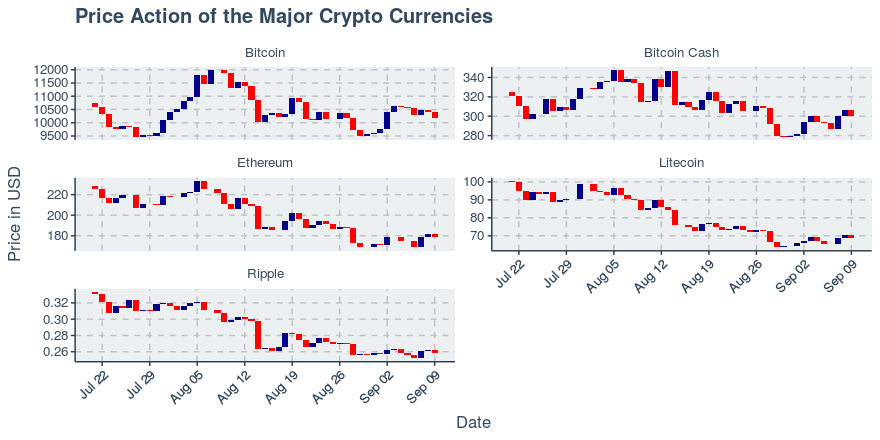 Price Patterns to Monitor
Buy Ethereum using your credit card in under five minutes
None of the coins had moves that could be regarded as unusually large; all the moves were within the volatility ranges we've come to expect for each currency. Technical traders may also wish to note the following developments in price action:
Over the past two weeks, the five largest cryptos have been void of a clear trend. Might be time to bust out the trading strategies for a rangebound market, or wait for clearer trends to emerge.
Bitcoin and Bitcoin Cash are getting quite close to their respective 20 day moving averages; they are within 3% of them.
Momentum traders will want to note that XRP, Litecoin and Ethereum saw their respective 20-day moving averages crossed yesterday.
Insights From Transaction Data
Ripple recorded 900,614 transactions on its blockchain over the past 24 hours; that's the best of the bunch, and about 26% over Ethereum, which had the second-most transactions recorded on its chain. Ripple's transaction fee is less than Ethereum's transaction fee; in and of itself, this may imply transaction fees might be a key reason why users are preferring Ripple. The largest transaction in the cryptocurrency space yesterday, coming in at a value of $40,494,668 occurred on Bitcoin's chain. Bitcoin's dominance of the crypto market remains intact, with it now accounting for approximately 69.56% of the value of all circulating cryptocurrencies. Its dominance has been in an uptrend over the past two weeks, stepping from 68.33% to 70.84%.