How Did Bitcoin's Price Fare Yesterday?
Bitcoin s price at the moment is clocking in at $9,255.48, which means that since yesterday, it is down about 1.6%. The past 24 hours mark a reversal in price from the day prior. It should be noted, though, that price is still in an unclear trend, and is currently 4.68% above its 20-day moving average; staying above this level may be critical to sustaining short-term momentum. On the flip side, for those who prefer a rangebound view when trading, Bitcoin's trading range — based on its momentum and volatility over the past two weeks — is between $7,802.51 and $9,881.11 (in US dollars). In terms of its overall importance in the cryptocurrency market, Bitcoin's current market capitalization is $165.06 billion US dollars, which is about 66.65% of the market capitalization of all cryptocurrencies Bitcoin's dominance level hasn't exhibited a clear trend over the past 14 days, instead of oscillating between 65.36% and 68.13%. Without a clear trend in dominance, the jury is still up for grabs as to whether or not Bitcoin will be the only cryptocurrency that succeeds.
Want to trade Bitcoin Consider the following brokers: CoinDirect, Gate, Yobit, Stex, Binance, DDEX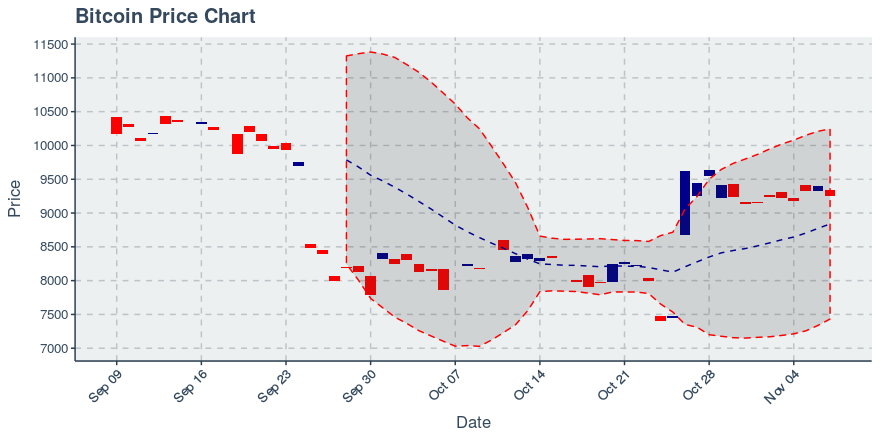 Daily Engagement and Hash Rate Metrics Update
Yesterday, the Bitcoin blockchain saw 324,487 transactions recorded on it. Regarding growth in actual usage of the blockchain for transactions, observe that over the past 7 days daily transactions have risen by about 2.93%, though it should be noted this past week the trend should be described as not clear — at least on a two-week basis. If Bitcoin does repeatedly grow transactions, it may need to derive its value as a way to acquire goods or services. As for Bitcoin's transaction fees, the average transaction fee yesterday was $1.15 US dollars. The size of the typical transaction on Bitcoin's blockchain is up 13.69% in US dollars; meanwhile, the fee for sending transactions has been growing by 3.98% per week. It should be noted that the rise in fees could mean the currency is well-suited for high-value transactions, as growth in transaction sizes is roughly in the same ballpark relative to growth in transaction fees. In terms of how much computing power Bitcoin is using, over the past 30 days its hash rate has continued to bounce around, ultimately declining daily by approximately -0.26%. Ultimately, the security of Bitcoin is being a point to bear in mind, because the hash rate trend is unclear — which implies the trend in mining strength is now harder to understand. As such, this might not enable Bitcoin to earn greater trust from developers and investors alike.