How the Fab Five Fared
Since yesterday, the top five cryptocurrencies — Litecoin, Bitcoin, Bitcoin Cash, Ethereum, and Ripple — have gone down -1.84% in aggregate. Leading the way was Ethereum, whose price is now around $145.73 USD, which yielded holders a return of -1.35% from the day prior. In terms of the worst performer, that would be XRP, which reported a day-over-day return of -3% — a move that puts its price around $0.212918 USD. None of the coins had up days, which indicates a wave of bearishness befell the sector as a whole.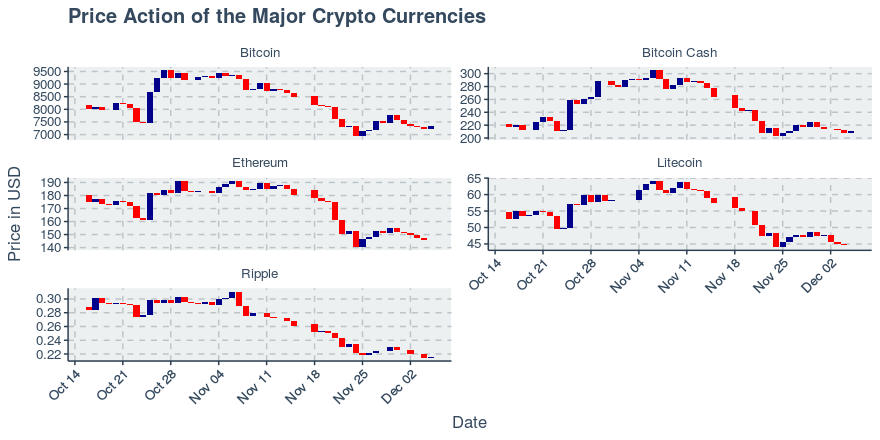 Price Action to Watch
None of the coins had surprising moves, in the sense that the prices fluctuated within the typical range they have been fluctuating between over the past few weeks. Traders may also wish to bear in mind the following events going on regarding current price patterns:
If coins without a clear trend are your thing, consider XRP, Litecoin, Bitcoin and Ethereum. Those have not been in any clear trend over the past 14 days, and thus might be of interest to rangebound traders.
What Does Transaction Data Tell Us?
The blockchain that saw the most transactions recorded on its blockchain over the past day was Ripple; its 1,083,998 transfers added was about 64% greater than the transactions recorded on Ethereum, which was the runner up for transactions logged on its chain over the past 24 hours. Ripple's transaction fee was also less than Ethereum's, suggesting transaction fees might be a key reason why users are preferring Ripple. Bitcoin was the coin with the largest transaction across all blockchains yesterday; the largest transaction on its chain was valued at $419,522,880 US dollars. The circulating value of all Bitcoins now comes in at approximately $132.18 billion US dollars — which means Bitcoin accounts for about 66.86% of the entire cryptocurrency market. To put that in perspective, we should note that over the past two weeks Bitcoin's dominance percentage has been in an uptrend, climbing from 65.96% to 66.86%.