How Did the Fab Five Finish?
Since yesterday, the top five cryptocurrencies — Litecoin, Bitcoin Bitcoin Cash, Ethereum, and Ripple — have gone down -0.95% in aggregate. The best performer of the bunch was XRP, which went down 0.51% and currently is sitting near $0.268608 USD. As for the worst-performing crypto out of the Big Five, yesterday that was Bitcoin; it came in at down 1.83%, which drove its price to around $10175.47 USD. In total, none coins were up from the day prior, which indicates a wave of bearishness befell the sector as a whole.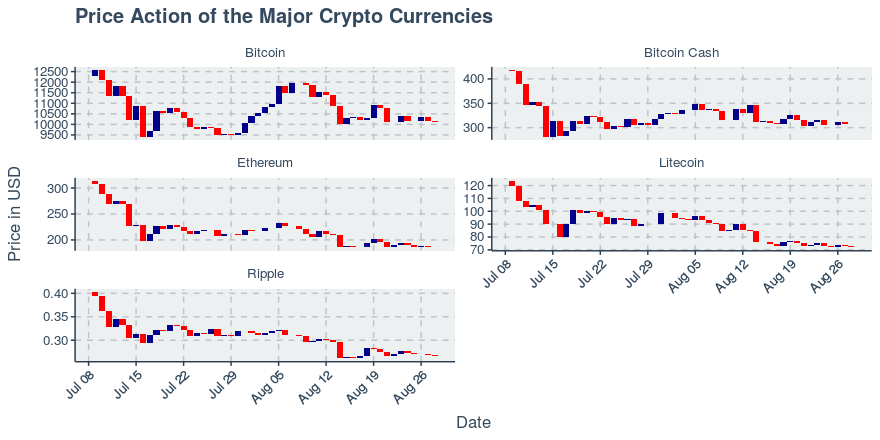 Price Action to Watch
Buy Bitcoin online in under five minutes
Yesterday was a fairly normal day for all of these cryptocurrencies, in the sense that they fluctuated within the normal daily range we have come to suspect them to move within. Traders may also wish to bear in mind the following events going on regarding current price patterns:
Over the past two weeks, the five largest cryptos have been void of a clear trend. Might be time to bust out the trading strategies for a rangebound market, or wait for clearer trends to emerge.
For traders viewing the 20-day moving average as a key level signalling momentum, keep an eye on Bitcoin Cash. It's getting quite close to its 20-day moving average.
Insights from the Blockchains
The blockchain that saw the most transactions recorded on its blockchain over the past day was Ripple; its 875,637 transfers added was about 23% greater than the transactions recorded on Ethereum, which was the runner up for transactions logged on its chain over the past 24 hours. Ripple has a transaction fee less than the transaction fee of Ethereum, which may indicate that transaction fees might be a key reason why users are preferring Ripple. Over the past 24 hours, the largest transaction across all blockchains occurred on Bitcoin, coming in at a value of $113,267,152 US dollars. Bitcoin continues to dominate the crypto market, with the total circulating value of its currency equal to approximately $180.93 billion US dollars. That's about 68.36% of the value of all circulating cryptocurrencies. To put that in perspective, we should note that over the past two weeks Bitcoin's dominance percentage has been in an unclear trend, oscillating between 67.16% to 68.64%.