Insights From Transaction Data
The big news of the day is the transaction activity on Ripple: not only did it have more transactions recorded on its chain yesterday than any other coin — to be precise, it had about 25% more transactions recorded than Ethereum, which was the runner up for the day in terms of transactions recorded — but Ripple also boasted the largest transaction on its chain across all cryptocurrencies for the previous day, with its largest transaction coming in at $126,580,436 US dollars. Ripple's transaction fee is and has been substantially less than other coins that typically report large volume and/or transaction sizes (namely Ethereum, Bitcoin and Bitcoin Cash) which perhaps is a contributing factor to its utility in this regard.
Buy Ripple using a credit card
How the Fab Five Fared in Terms of Price
In aggregate since yesterday, the "fab five" — Litecoin, Bitcoin, Bitcoin Cash, Ethereum, and Ripple — traded in a relatively tight range but managed to go up by an average of 1.11%. Leading the way was Ethereum, whose price is now around $221.71 USD, which yielded holders a return of 1.93% from the day prior. On the flip side, the worst performer was XRP coming in at 0.56%; its price is now near $0.316491 USD. All five of the coins had up days, which is nice for those bullish on cryptocurrencies.
Interested in trading these currencies? Some brokers to try:
Coindirect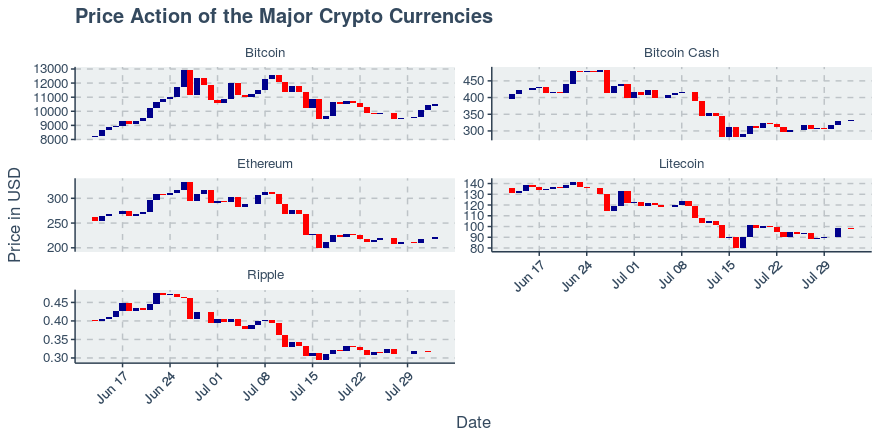 Key Technical Moves
Yesterday was a fairly normal day for all of these cryptocurrencies in regards to price, in the sense that they fluctuated within the normal daily range we have come to suspect them to move within. Also of note for technical traders are the following developments in price action:
The crypto market as a whole seems to be lacking a clear trend; the five majors aren't showing signs of a bull or bear trend at the moment over the past 14 days.