Recap of the Top Five Cryptos
Since yesterday, the top five cryptocurrencies — Litecoin, Bitcoin Bitcoin Cash, Ethereum, and Ripple — have gone down -2.02% in aggregate. Out of the aforementioned five, Litecoin gave investors the best daily return; it was down 1.25%, which has its price now near $72.989835 USD. As for the worst-performing crypto out of the Big Five, yesterday that was Bitcoin Cash; it came in at down 3.22%, which drove its price to around $305.68 USD. In total, none coins were up from the day prior, which indicates a wave of bearishness befell the sector as a whole.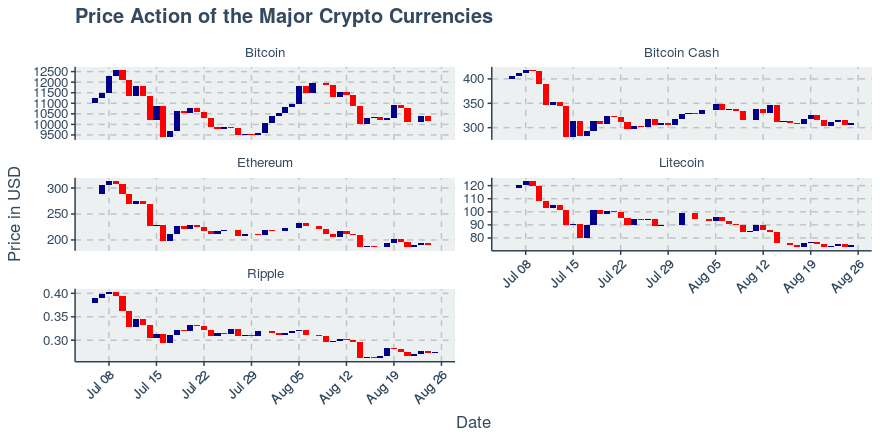 Price Action to Watch
None of the coins had surprising moves, in the sense that the prices fluctuated within the typical range they have been fluctuating between over the past few weeks.
Buy Ripple online in under five minutes
Technical traders may also wish to note the following developments in price action:
If coins without a clear trend are your thing, consider Bitcoin and Ethereum. Those have not been in any clear trend over the past 14 days, and thus might be of interest to rangebound traders.
Currencies in clear downtrend over the past two weeks are XRP, Litecoin, and Bitcoin Cash. If you prefer bear markets, they might be up your alley.
Insights from the Blockchains
The blockchain that saw the most transactions recorded on its blockchain over the past day was Ripple; its 865,434 transfers added was about 29% greater than the transactions recorded on Ethereum, which was the runner up for transactions logged on its chain over the past 24 hours. Ripple's transaction fee is less than Ethereum's transaction fee; in and of itself, this may imply transaction fees might be a key reason why users are preferring Ripple. Over the past 24 hours, the largest transaction across all blockchains occurred on Ripple, coming in at a value of $130,902,493 US dollars.