How Did the Fab Five Finish?
Since yesterday, the top five cryptocurrencies — Litecoin, Bitcoin Bitcoin Cash, Ethereum, and Ripple — have gone up 1.64% in aggregate. Leading the way was XRP, which yielded holders a return of 5.84% from the day prior. As for the worst performing crypto out of the Big Five, yesterday that was Bitcoin Cash; it came in at down 0.45%. Two of the coins had up days, which is a mixed sign for the crypto sector.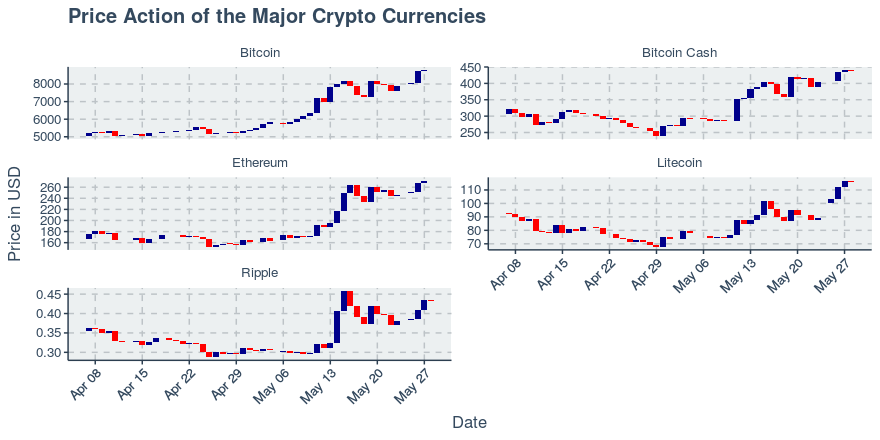 Price Action to Watch
XRP had an especially unusual move, in the sense that the move was much larger than its normal daily trading range. What caused this move might be worthy of further investigation. Traders may also wish to bear in mind the following events going on regarding current price patterns:
Seeking momentum? Litecoin has been in a clear uptrend for the past two weeks.
XRP doesn't really have a clear trend one way or the other. If you abide by the adage "the trend is your friend" well, then XRP is no friend of yours. 🙂
Buy Bitcoin using a credit card
What Does Transaction Data Tell Us?
As has typically been the case, the blockchain that saw the most transactions recorded on its blockchain over the past day was Ethereum; its 955,488 transfers added was about 1% greater than the transactions recorded on Ripple, which was the runner up for transactions logged on its chain over the past 24 hours. The difference of just 1% is far less than it usually has been, suggesting, Ripple may be closing the gap in some way. Ethereum's transaction fee is greater than Ripple's transaction fee; in and of itself, this may imply consumers are opting for Ethereum in spite of its higher fees. Over the past 24 hours, the largest transaction across all blockchains occurred on Bitcoin Cash, coming in at a value of $107,708,656 US dollars. This has occurred before in recent history, but Bitcoin rather than Bitcoin cash is still where the largest transaction is most likely to occur — and so this development is somewhat unusual.