How Did the Fab Five Finish?
In aggregate since yesterday, the "fab five" — Litecoin, Bitcoin Bitcoin Cash, Ethereum, and Ripple — were up 0.48%. The best performer of the bunch was XRP, which went up 5.11%. On the flip side, the worst performer was Bitcoin coming in at -1.07%, as it appears to be taking a breather after momentarily breaking past $11,000. Out of the five coins observed here, two cryptocurrencies were up — which is a mixed sign for the crypto sector as a whole.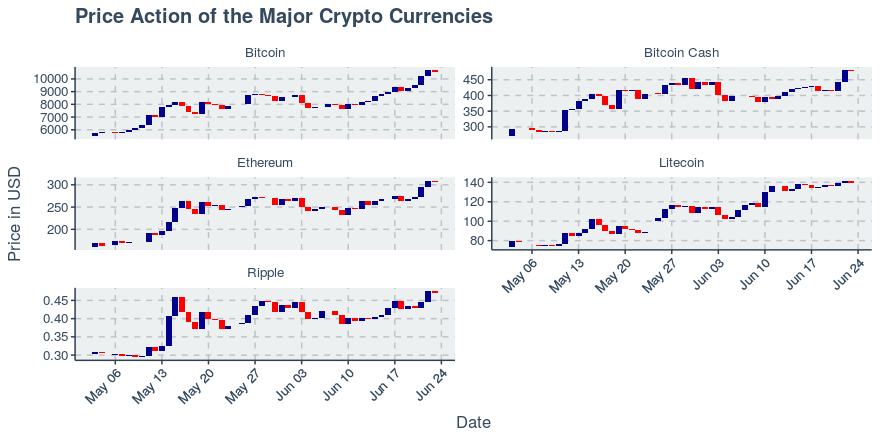 Price Patterns to Monitor
Yesterday was a fairly normal day for all of these cryptocurrencies, in the sense that they fluctuated within the normal daily range we have come to suspect them to move within. Also of note for technical traders are the following developments in price action:
Seems like it might be a trend trader's market, in the sense that over the past two weeks all of the major coins are in a clear uptrend.
Buy Bitcoin using your local currency
What Does Transaction Data Tell Us?
Ripple had more transactions recorded on its chain yesterday than any other coin; to be precise, it had about 26% more transactions recorded than Ethereum, which was the runner up for the day in terms of transactions recorded. Ripple has a transaction fee less than the transaction fee of Ethereum, which may indicate that transaction fees might be a key reason why users are preferring Ripple. The largest transaction in the cryptocurrency space yesterday, coming in at a value of $314,102,112 occurred on Bitcoin's chain; this is a transaction that is noticeably larger than what we've seen on the Bitcoin chain this past week. Bitcoin's dominance of the crypto market fell slightly since yesterday, but generally remains intact; it now accounts for approximately 58.22% of the value of all circulating cryptocurrencies.