How Did the Fab Five Finish?
In aggregate since yesterday, the "fab five" — Litecoin, Bitcoin Bitcoin Cash, Ethereum, and Ripple — were down -0.5%. Out of the aforementioned five, XRP gave investors the best daily return; it was up 0.01%, which has its price now near $0.221479 USD. On the flip side, the worst performer was Ethereum coming in at -1.58%; its price is now near $143.61 USD. In total, just one coin was up from the day prior, which indicates the almost the entirety of the sector as a whole moved down.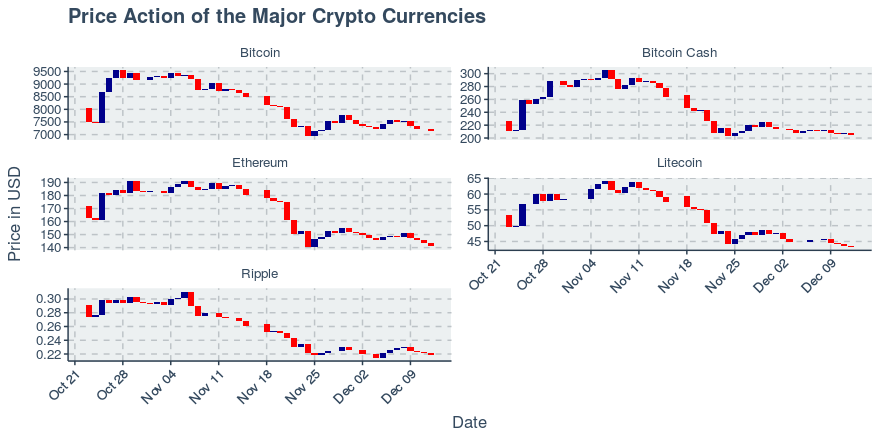 Price Action to Watch
None of the coins had moves that could be regarded as unusually large; all the moves were within the volatility ranges we've come to expect for each currency. Traders may also wish to bear in mind the following events going on regarding current price patterns:
Currencies without a clear trend over the past two weeks are XRP and Bitcoin. If you prefer choppy, rangebound markets, they might be up your alley.
Currencies in clear downtrend over the past two weeks are Litecoin and Ethereum. If you prefer bear markets, they might be up your alley.
XRP and Bitcoin may be worth keeping an eye on, as they are getting quite close to their respective 20-day moving average. Crossing the 20 day average with conviction often accelerates a trend, according to some technical traders.
Insights From Transaction Data
Ripple had more transactions recorded on its chain yesterday than any other coin; to be precise, it had about 23% more transactions recorded than Ethereum, which was the runner up for the day in terms of transactions recorded. Ripple's transaction fee is less than Ethereum's transaction fee; in and of itself, this may imply transaction fees might be a key reason why users are preferring Ripple. Bitcoin was the coin with the largest transaction across all blockchains yesterday; the largest transaction on its chain was valued at $43,184,772 US dollars. Bitcoin's dominance of the crypto market remains intact, with it now accounting for approximately 66.71% of the value of all circulating cryptocurrencies Note that Bitcoin's dominance level has been in an unclear trend, moving between 66.31% to 66.86% over the past two weeks.