How Did the Fab Five Finish?
Since the previous day, the five most-watched cryptos (Bitcoin, Bitcoin Cash, Litecoin, Ethereum, and Ripple) provided their holders with a return of -0.73%. Out of the aforementioned five, XRP gave investors the best daily return; it was up 1.65%. In terms of the worst performer, that would be Litecoin, which reported a day-over-day return of -3.45%. Out of the five coins observed here, two cryptocurrencies were up — which is a mixed sign for the crypto sector as a whole.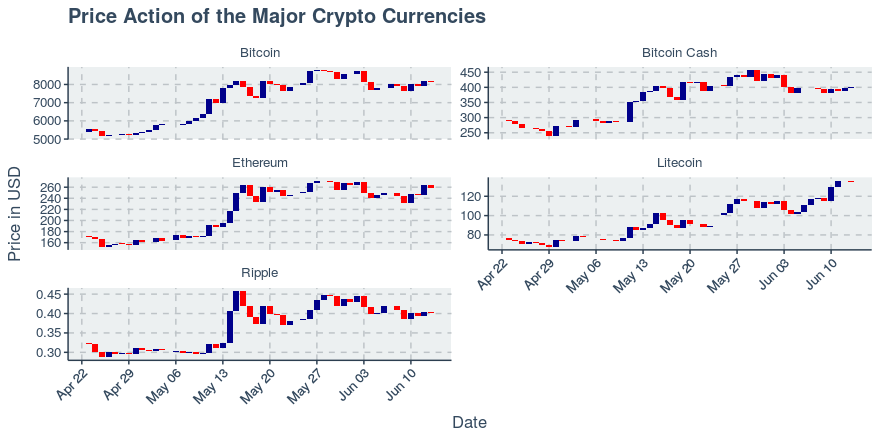 Price Patterns to Monitor
None of the coins had moves that could be regarded as unusually large; all the moves were within the volatility ranges we've come to expect for each currency. Technical traders may also wish to note the following developments in price action:
Trend traders may wish to keep an eye on Litecoin. It has clearly exhibited a bullish trend over the past two weeks.
If you are looking for coins without a clear trend, consider Bitcoin, Bitcoin Cash and Ethereum; they've been trendless over the past two weeks.
XRP is in a clear downtrend on a two-week timeframe. This could an interesting opportunity for short sellers.
Buy Bitcoin using your local currency
What Does Transaction Data Tell Us?
The blockchain that saw the most transactions recorded on its blockchain over the past day was Ripple; its 808,432 transfers added was about 1% greater than the transactions recorded on Ethereum, which was the runner up for transactions logged on its chain over the past 24 hours. Ripple's transaction fee is less than Ethereum's transaction fee; in and of itself, this may imply transaction fees might be a key reason why users are preferring Ripple. Bitcoin was the coin with the largest transaction across all blockchains yesterday; the largest transaction on its chain was valued at $149,659,312 US dollars. The circulating value of all Bitcoins now comes in at approximately $ 144.04 billion US dollars — which means Bitcoin accounts for about 54.88 % of the entire cryptocurrency market.