Businesses and individuals have already filed for more cryptocurrency, NFT, Web3, and Metaverse trademarks United States trademarks this year than in all of 2021.
Data compiled by intellectual property lawyer Michael Kondoudis shows that there has been a surge of trademarks filed for crypto and crypto-related products through the United States Patent and Trademark Office this year. According to his data, between January 2022 and the end of August, the number of filed applications has surpassed that of 2021 in total.
The surge of NFT and Metaverse products
His research shows that the number of NFT and Metaverse applications has more than doubled, from 2087 in 2021 to more than 5500 in August for NFT applications and from 1866 in 2021 to 4150 in August for Metaverse applications.
🚨So far in 2022 over 3600 US trademark apps have been filed for digital + cryptocurrencies (and related services)
Jan: 480
Feb: 530
March: 604
April: 577
May: 540
June: 443
July: 396
Aug: 329

The total was 3516 in all of 2021.#Crypto #Fintech #DeFi #Cryptocurrencies #Web3 pic.twitter.com/PXUfMqBrEI

— Mike Kondoudis (@KondoudisLaw) September 6, 2022
His data indicates that March saw the largest influx of applications for all digital products, with 1078 new applications for NFTS, 604 (as above) for cryptocurrency and related services, and 759 for Metaverse-related products. Since March, all three service types have seen decreasing numbers in the applications filed for trademarks in the country.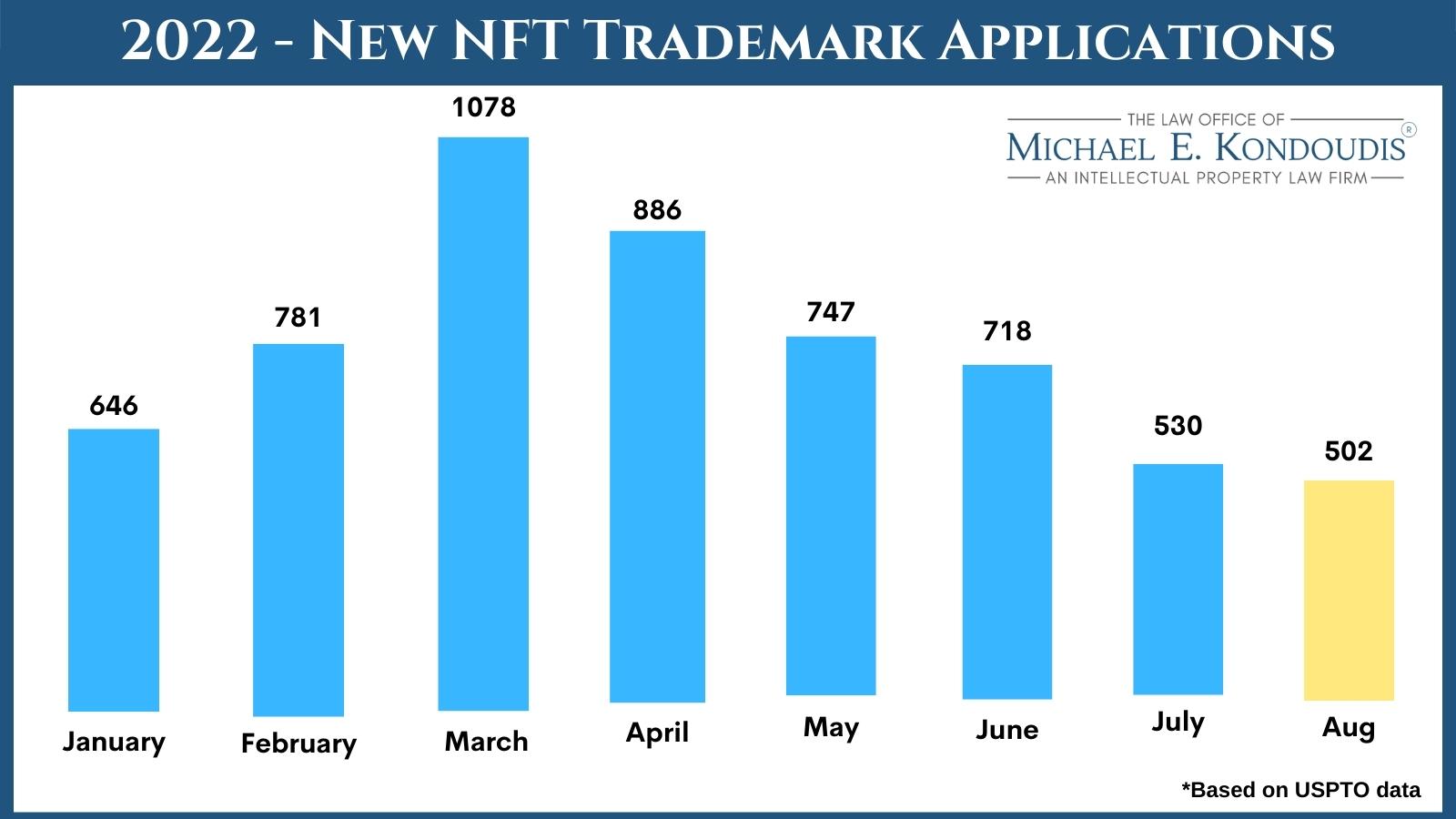 Source: Michael Kondoudis 
The rise of NFTs with institutional interest
While the NFT industry is not new, there has been a recent uptick in how companies are looking to concept of digital assets for products. Brands like Taco Bell, Coca-Cola, and athletic brand Asics have all released NFT collections in the past. However, there seems to be more of a move towards Metaverse-geared asset types now with brands taking on more interest in the Web3 space. Meta, as part of the Facebook group, has made roads to introduce Metaverse-related offerings as part of its platform. Additionally, Formula One, MasterCard, Hermès, and the United States Space Force have all filed applications with the Trademark Office with digital assets and blockchain-related products.