How Did the Fab Five Finish?
In aggregate since yesterday, the "fab five" — Litecoin, Bitcoin, Bitcoin Cash, Ethereum, and Ripple — were down -2.94%. Leading the way was Bitcoin Cash, whose price is now around $212.39 USD, which yielded holders a return of 1.06% from the day prior. On the flip side, the worst performer was Litecoin coming in at -7.4%; its price is now near $48.57 USD. Out of the five coins observed here, just one cryptocurrency up — which indicates the almost the entirety of the sector as a whole moved down as a whole.
Simplify crypto trading. Track and trade your entire portfolio across ten different
exchanges
using
Quadency
.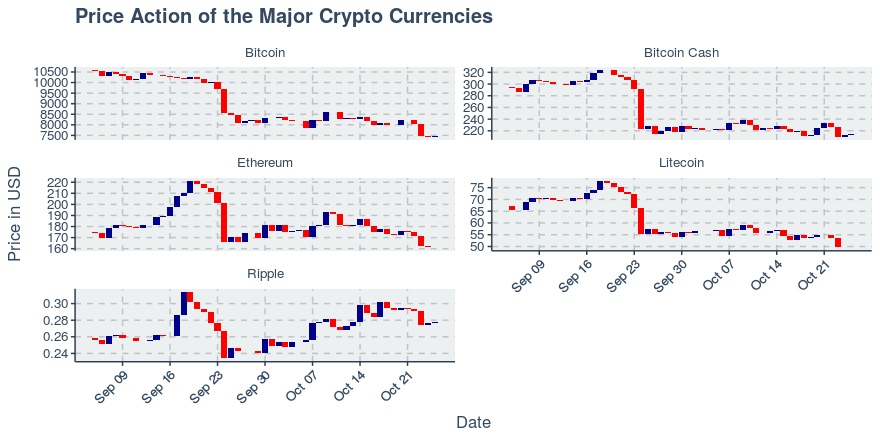 Key Technical Moves
The moves in XRP and Litecoin were especially surprising; they were much larger than the normal daily trading range associated with the currency. Traders may also wish to bear in mind the following events going on regarding current price patterns:
XRP and Bitcoin Cash don't have a clear trend at this time, at least on a two-week timeframe.
Litecoin, Bitcoin and Ethereum are in a clear downtrend at this time.
It's also worth noting that XRP, in particular, had a major technical breakthrough; it crossed its 20-day moving average in the day prior.
What Does Transaction Data Tell Us?
The blockchain that saw the most transactions recorded on its blockchain over the past day was Ripple; its 1,223,338 transfers added was about 70% greater than the transactions recorded on Ethereum, which was the runner up for transactions logged on its chain over the past 24 hours. Ripple's transaction fee was also less than Ethereum's, suggesting transaction fees might be a key reason why users are preferring Ripple. The largest transaction in the cryptocurrency space yesterday, coming in at a value of $135,214,192 occurred on Bitcoin's chain. The circulating value of all Bitcoins now comes in at approximately $134.33 billion US dollars — which means Bitcoin accounts for about 65.36% of the entire cryptocurrency market. Its dominance has been in a downtrend over the past two weeks, heading between 65.36% to 66.95%.