The Bitcoin bears might not have their day this crypto season, according to LightCrypyo, a popular crypto analyst on Twitter.
In a series of 18 tweets, Light highlights how Bitcoin dropped from its high trading value in early November to a nearly 40% correction as the year closes.
/1 Where are the Bulls' Balls? A thread on the cryptocurrency markets over the last month and into the end of the year: pic.twitter.com/gkTjVMUxrM

— light (@lightcrypto) December 18, 2021
According to Light, Bitcoin's major dip in price was trajected by a number of different factors in the market. The crypto account noted that a massive part of Bitcoin's dip, resulting in "billions upon billions lost" came from a flush in the market as open interest contracts were closed and liquidation. According to Light, this has offered a reminder of the risk in crypto and investors who might have been on the fence before are now "properly risk-averse." As noted:
"25% of derivatives OI was closed or liquidated. Billions upon billions lost. If people were cautious before, they were now properly risk averse… Those who did not take heed of the market's message a month before, now began to panic in an accelerating fashion."
As Bitcoin rallied in November, people took to investing in the altcoins too, primarily driven by futures contracts (which were soon after liquidated).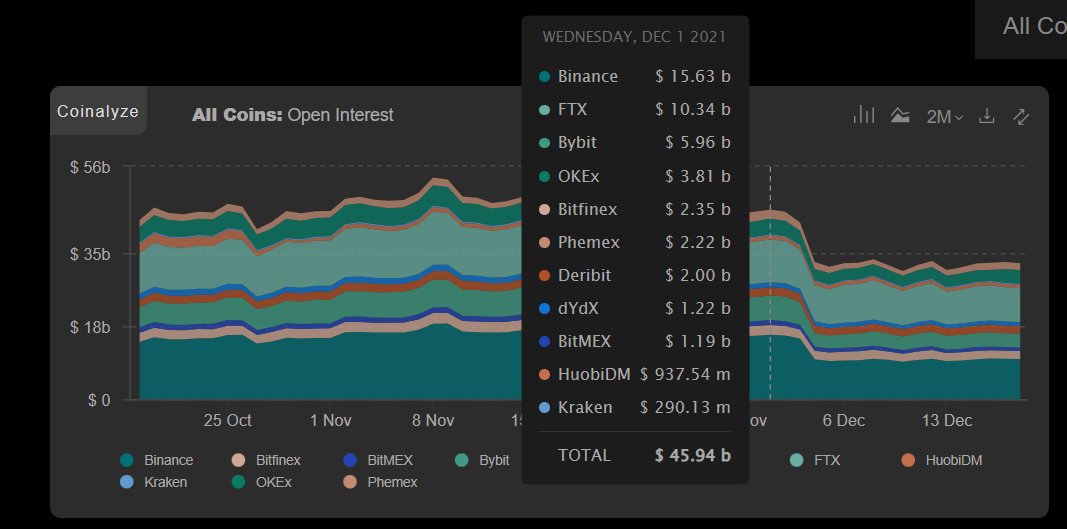 Source: LightCrypto, Twitter
Heading towards alt season?
However, while Bitcoin took a tumble after tagging its all-time high in November, the rest of the alt market didn't face such a severe correction – which typically occurs when the market is facing the beginning of a bear run.
As Bitcoin's dominance in the market decreases, the alts are looking to offer some short-term stability in the market. Since October, Bitcoin dominance has dropped from 49.43% to 40.43% at the time of writing. While it might not quite be altcoin season, it's not far off the mark according to the altcoin strength index (which dictates that it is altcoin season if 75% of the Top 50 coins performed better than Bitcoin over the 90 days.) As Michaël van de Poppe puts it, the alts like Ethereum are going to be carrying the market this season.
Should Bitcoin continue to struggle to outperform the altcoins, investors might look to trade and hold the alternative tokens.
Is Bitcoin at its new bottom?
As it stands, Bitcoin seems to be ranging above $45,000 USD while struggling to break above $50,000, USD. While the bears are threatening to continue to sell off and bring the token down, it seems early investors and long-term traders are maintaining the health of the crypto. As Light noted:
"Whereas bulls have been cautious, bears have taken to aggression, pushing perpetuals basis negative on some venues and building OI, while the large players who derisked in the $60k area have reversed course and begun to absorb panic- and short-selling. Funds are likely done (or close to it) with structural sell flows, are cashed-up, and will now consider frontrunning the other way, namely, incoming buy flows in January."
If this is the case, this flush might just be a seasonal sell. The timing would align with this, given that it's both tax season in the US – a time which often sees Bitcoin and the crypto market overall drop slightly. Further, there has been an air of caution in trading following the news of the latest Covid-19 variant. It seems as though the short-term sell-off might be reaching its peak, however. As Light concluded:
"It's the bears that will likely turn out to be stoneless soon enough."