How the Fab Five Fared
In aggregate since yesterday, the "fab five" — Litecoin, Bitcoin, Bitcoin Cash, Ethereum, and Ripple — were up 1.9%. Out of the aforementioned five, Ethereum gave investors the best daily return; it was up 4.89%, which has its price now near $194.77 USD. On the flip side, the worst performer was Litecoin coming in at -1.44%; its price is now near $72.853507 USD. In total, four coins were up from the day prior, which is a bullish sign for the sector.
Interested in trading these currencies? Some brokers to try:
Coindirect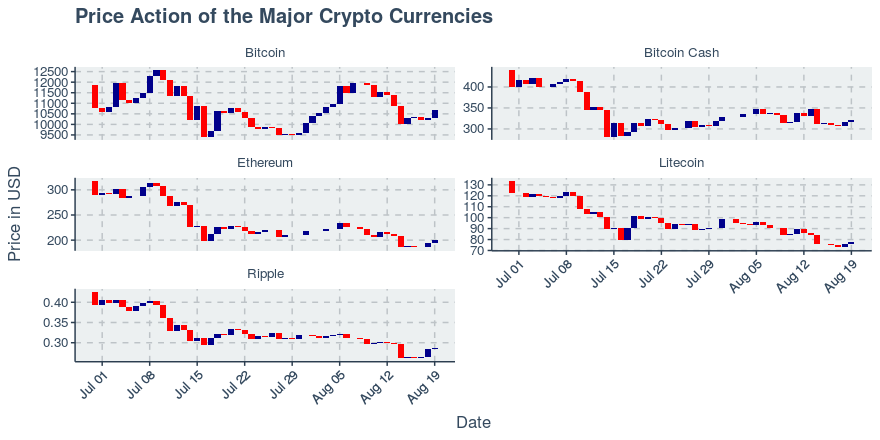 Price Action to Watch
Buy Ethereum in less than five minutes
Yesterday was a fairly normal day for all of these cryptocurrencies in the sense that they fluctuated within the normal daily range we have come to suspect them to move within. Technical traders may also wish to note the following developments in price action:
Bitcoin Cash doesn't really have a clear trend one way or the other. If you abide by the adage "the trend is your friend" well, then Bitcoin Cash is no friend of yours. 🙂
XRP, Litecoin, Bitcoin and Ethereum are in a clear downtrend at this time.
Insights from the Blockchains
The blockchain that saw the most transactions recorded on its blockchain over the past day was Ripple; its 880,468 transfers added was about 29% greater than the transactions recorded on Ethereum, which was the runner up for transactions logged on its chain over the past 24 hours. Ripple has a transaction fee less than the transaction fee of Ethereum, which may indicate that transaction fees might be a key reason why users are preferring Ripple. Over the past 24 hours, the largest transaction across all blockchains occurred on Bitcoin, coming in at a value of $45,972,316 US dollars. The circulating value of all Bitcoins now comes in at approximately $190.73 billion US dollars — which means Bitcoin accounts for about 68.16% of the entire cryptocurrency market. To put that in perspective, we should note that over the past two weeks Bitcoin's dominance percentage has been in an unclear trend, oscillating between 67.16% to 69.3%.