How the Fab Five Fared
Since yesterday, the top five cryptocurrencies — Litecoin, Bitcoin Bitcoin Cash, Ethereum, and Ripple — have gone up 1.46% in aggregate. Leading the way was Bitcoin, whose price is now around $7294.53 USD, which yielded holders a return of 9.93% from the day prior. As for the worst-performing crypto out of the Big Five, yesterday that was Litecoin; it came in at down 6.71%, which drove its price to around $36.94 USD. Out of the five coins observed here, two cryptocurrencies were up — which is a mixed sign for the crypto sector as a whole.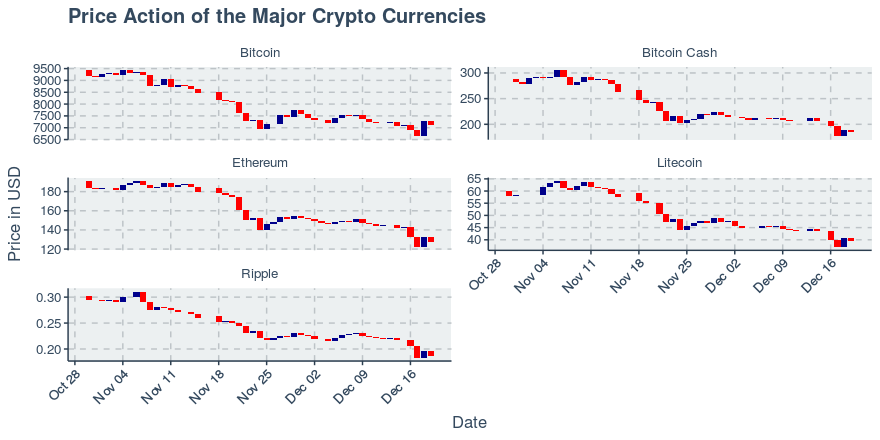 Price Patterns to Monitor
XRP, Litecoin, Bitcoin and Ethereum had especially unusual moves, in the sense that they were much larger than the normal daily trading range of each respective currency. What caused these moves might be worthy of further investigation. Also of note for technical traders are the following developments in price action:
XRP, Litecoin, Bitcoin and Ethereum are in a clear downtrend at this time.
Bitcoin may be worth keeping an eye on, as its getting close to its 20-day moving average: it's 20-day average is at 7296.0945, while its current price is approximately 7294.53.
Insights From Transaction Data
Ripple had more transactions recorded on its chain yesterday than any other coin; to be precise, it had about 143% more transactions recorded than Ethereum, which was the runner up for the day in terms of transactions recorded. Ripple has a transaction fee less than the transaction fee of Ethereum, which may indicate that transaction fees might be a key reason why users are preferring Ripple. Ethereum was the coin with the largest transaction across all blockchains yesterday; the largest transaction on its chain was valued at $104,781,550 US dollars.