How Did Bitcoin's Price Fare Yesterday?
Bitcoin s price at the moment is clocking in at $10,387.5, which means that since yesterday, it is up about 8.01%. The up day for Bitcoin yesterday was a reversal from the day before it. Price now stands at 2.73% above its 20-day moving average, and over the past two weeks, price has been in a downtrend. At the moment, it's about 2.73% above its 20-day average price of $10,111.51, which is close; staying above the 20-day moving average may be important in terms of sustaining short-term momentum. Alternatively, for those interested in trading ranges that Bitcoin bounces between, its current two-week trading range in US dollars is between $9,386.76 and $10,836.26. The currency's market cap is now at $184.72 billion US dollars, and its market dominance — the percent of the entire amount of capital invested in cryptocurrencies that belong to Bitcoin — is at 69.93%. It may be worth paying attention to the trend in Bitcoin's dominance; the currency's dominance has been going up slightly, as it has reported an average daily rise of 0.14% the past two weeks. A rise in dominance may suggest the network effects surrounding Bitcoin are getting stronger, and that Bitcoin's chances for long-term survival are thus enhanced.
Want to trade Bitcoin Consider the following brokers: CoinDirect, Gate, Yobit, Stex, Binance, DDEX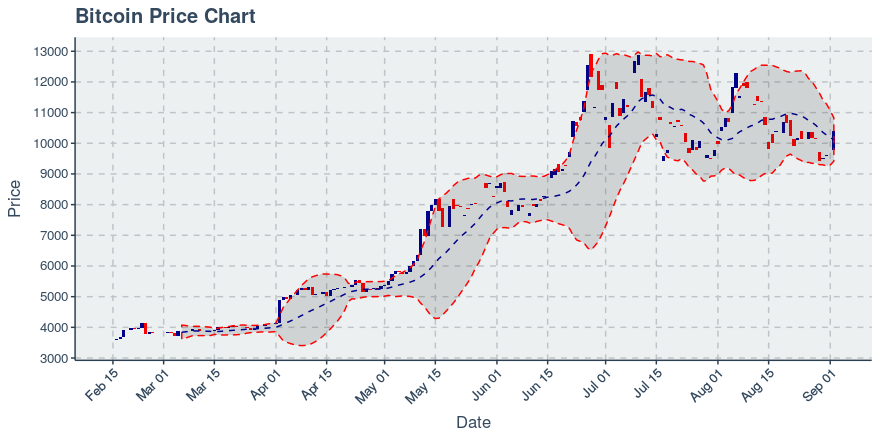 Daily Engagement and Hash Rate Metrics Update
327,248 transactions were added to the Bitcoin blockchain in the previous day. The trend in daily transactions is not clear, though it should be noted that transactions have risen by about 4.58% over the past week. If Bitcoin does consistently grow transactions, it may need to derive its value as money for buying certain goods/services. As for Bitcoin's transaction fees, the average transaction fee yesterday was $0.87 US dollars. The average transaction fee has been declining at a rate of about 31.57% per week, but the average amount of money sent in transactions, in US dollars, is down 1.91% week over week. Bitcoin's transaction fee and average transaction value are both declining, though that is likely to change if Bitcoin's price sustains a stronger rally going forward. In terms of how much computing power Bitcoin is using, over the past 30 days its hash rate has continued to bounce around, ultimately rising daily by approximately 0.24%. Given the unclear trend in bitcoin mining, it may be that hash rate is getting harder to understand; this could result in the chain's security being a point to bear in mind. As such, this might not enable Bitcoin to attract more high-value transactions.
Bitcoin's Wealth Concentration and Activity
2.49% of the 563.35 million Bitcoin wallets holding a positive balance have transacted within the past 30 days. The number of monthly active users is in an unclear trend, ranging about 7,475.121 per day over the past two weeks. The top 1% of Bitcoin wallets hold over 90.47% of the outstanding Bitcoin.