Recap of the Top Five Cryptos
In aggregate since yesterday, the "fab five" — Litecoin, Bitcoin Bitcoin Cash, Ethereum, and Ripple — were up 2.63%. Out of the aforementioned five, Bitcoin gave investors the best daily return; it was up 6.91%, and currently sits at $12,409 at the time of this writing. On the flip side, the worst performer was Litecoin, coming in at -0.34%. Four of the coins had up days, which is a bullish sign for the sector.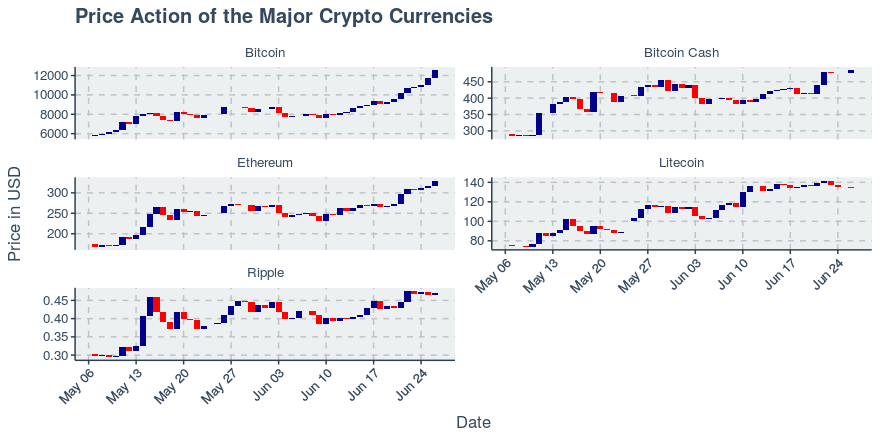 Price Patterns to Monitor
Technical traders may also wish to note the following developments in price action:
If you're looking for coins in a clear uptrend, look no further than XRP, Bitcoin, Bitcoin Cash, and Ethereum. Those coins have been in a clear uptrend over the past couple of weeks.
Litecoin doesn't really have a clear trend one way or the other. If you abide by the adage "the trend is your friend" well, then Litecoin is no friend of yours. 🙂
Buy Bitcoin Cash using a credit card
Insights from the Blockchains
Ethereum had more transactions recorded on its chain yesterday than any other coin; to be precise, it had about 3% more transactions recorded than Ripple, which was the runner up for the day in terms of transactions recorded. Ethereum and Ripple have been going back and forth a bit over the past week regarding which chain will have the most transactions on it for the day. Ethereum has a transaction fee greater than the transaction fee of Ripple, which may indicate that consumers are opting for Ethereum in spite of its higher fees. Bitcoin was the coin with the largest transaction across all blockchains yesterday; the largest transaction on its chain was valued at $292,474,848 US dollars. Bitcoin's dominance of the crypto market remains intact, with it now accounting for approximately 61.71% of the value of all circulating cryptocurrencies Bitcoin dominance has been making sizable leaps this week, along side the big rallies in Bitcoin that have been occurring.