Bitcoin Price Update
At the time of this writing, Bitcoin s price is $8,719.63 US dollars, up approximately 0.92% from the day prior. This marks the 3rd day in a row that Bitcoin has been up, and the coin is trending up. Since it is somewhat far above relative to its 20-day average price of $7,764.258, as such, dip buyers may need to wait a bit more for an opportunity. On the other hand, if you are a rangebound trader seeking a range for Bitcoin to bounce between, you might find a lower boundary at $6,798.81 USD and an upper boundary at $8,729.71 USD. In terms of its overall importance in the cryptocurrency market, Bitcoin's current market capitalization is $161.26 billion US dollars, which is about 66.21% of the market capitalization of all cryptocurrencies It may be worth paying attention to the trend in Bitcoin's dominance; the currency's dominance has been going down slowly, as it has reported an average daily fall of -0.21% the past two weeks. A fall in dominance may suggest a growing opportunity for investing in other coins, and thus multiple cryptocurrencies may end up succeeding.
Technical analysis of Bitcoin for traders, plus the best of Bitcoin Twitter. Get it daily at CFDTrading.com.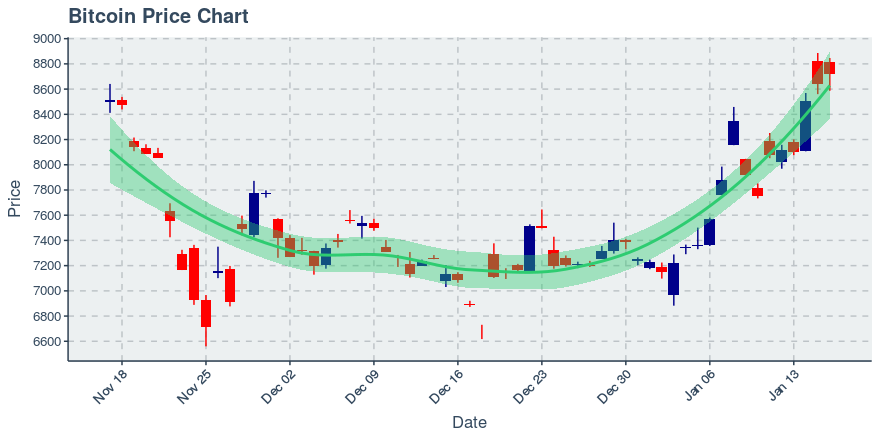 Update on Transactions and Hash Rate
Yesterday, the Bitcoin blockchain saw 325,947 transactions recorded on it. Regarding growth in actual usage of the blockchain for transactions, observe that over the past 7 days daily transactions have risen by about 2.08%, though it should be noted this past week the trend should be described as not clear — at least on a two-week basis. If Bitcoin does regularly grow transactions, it may need to derive its value as money for buying certain goods/services. In terms of transaction fees, the average cost for sending Bitcoin yesterday ended up being approximately $0.48 US dollars. The average transaction fee has been declining at a rate of about 3.97% per week, but the average amount of money sent in transactions, in US dollars, is down 9.02% week over week. Regarding Bitcoin's hash rate, which serves as a measure of the network's computational power, it has managed to trend upwards over the past 30 days. It has been growing daily by a rate of approximately 0.44%. Ultimately, the security of Bitcoin is improving, because the hash rate trend is upwards — which implies the trend in mining strength is now more intensive. This may help Bitcoin attract more high-value transactions.