Bitcoin: What's the Latest Regarding its Price?
Bitcoin s price at the moment is clocking in at $9,045.85, which means that since yesterday, it is up about 2.28%. The past 24 hours mark a reversal in price from the day prior. It should be noted, though, that price is still in a downtrend, and is currently 0.9% above its 20-day moving average; staying above this level may be critical to sustaining short-term momentum. On the flip side, for those who prefer a rangebound view when trading, Bitcoin's trading range — based on its momentum and volatility over the past two weeks — is between $8,599.64 and $9,330.65 (in US dollars). The currency's market cap is now at $158.64 billion US dollars, and its market dominance — the percent of the entire amount of capital invested in cryptocurrencies that belong to Bitcoin — is at 65.83%. It may be worth paying attention to the trend in Bitcoin's dominance; the currency's dominance has been going down gradually, as it has reported an average daily decline of -0.18% the past two weeks. A decline in dominance may suggest a growing opportunity for investing in other coins, and so a world with many viable competing coins maybe what we are headed towards.
Want to trade Bitcoin Consider the following brokers: CoinDirect, Gate, Yobit, Stex, Binance, DDEX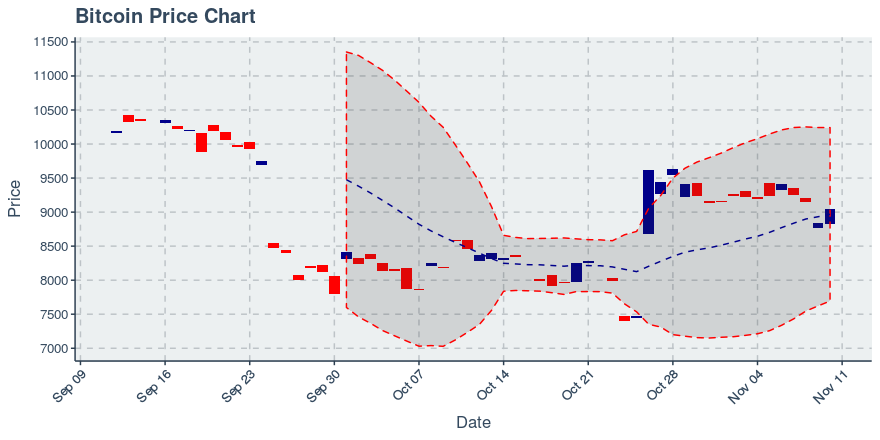 Update on Transactions and Hash Rate
299,712 transactions were recorded on the Bitcoin blockchain yesterday. Regarding growth in actual usage of the blockchain for transactions, observe that over the past 7 days daily transactions have grown by about 3.76%, though it should be noted this past week the trend should be described as not clear — at least on a two-week basis. Ultimately, if the currency does repeatedly succeed in growing transactions on its chain, its primary utility may be as money for buying certain goods/services. In terms of transaction fees, the average cost for sending Bitcoin yesterday ended up being approximately $0.85 US dollars. The size of the typical transaction on Bitcoin's blockchain is up 1.9% in US dollars; meanwhile, the fee for sending transactions has been increasing by 1.8% per week. In other words, transaction sizes are growing roughly in the same ballpark than transaction fees are, so the rise in fees may be something to monitor; Bitcoin may be too expensive on a relative basis. Last but certainly not least, Bitcoin's hash rate continues to bounce around on a 30-day basis, losing about -0.16% per day. Given the unclear trend in bitcoin mining, it may be that hash rate is getting harder to interpret; this could result in the chain's security being something to pay attention to. This may not help Bitcoin earn greater trust from developers and investors alike.