How Did Bitcoin's Price Fare Yesterday?
Bitcoin is up about 2.17% from the previous day, putting its price at $9,421.54 US dollars at the time of this writing. Yesterday's up day is a reversal of the day before it. In terms of trend, though, note that the current price is now 8.82% above its 20-day moving average, and is currently in an uptrend over the past 14 days. On the other hand, if you are a rangebound trader seeking a range for Bitcoin to bounce between, you might find a lower boundary at $7,101.71 USD and an upper boundary at $10,214.25 USD. In terms of its overall importance in the cryptocurrency market, Bitcoin's current market capitalization is $166.33 billion US dollars, which is about 66.83% of the market capitalization of all cryptocurrencies Bitcoin's dominance level has been without a clear trend over the past two weeks, fluctuating between 65.36% and 68.13%. As its dominance level doesn't have a clear direction at the moment, one could argue it isn't clear yet whether altcoins will survive — or if Bitcoin will capture the entire market and the vast majority of use cases for cryptocurrencies.
Want to trade Bitcoin Consider the following brokers: CoinDirect, Gate, Yobit, Stex, Binance, DDEX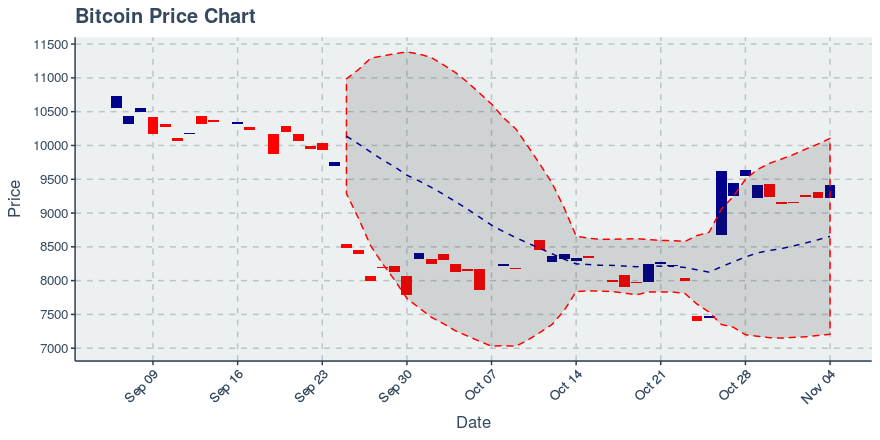 Daily Engagement and Hash Rate Metrics Update
310,979 transactions were recorded on the Bitcoin blockchain yesterday. The trend in daily transactions is clear; to wit, those transactions have dropped by about 3.32% over the past week. Ultimately, if the currency does not succeed in growing transactions on its chain, its primary utility may be as a form of savings. Yesterday, Bitcoin's average fee per transaction came in at $1.44. The average transaction fee has been rising at a rate of about 12.52% per week, but the average amount of money sent in transactions, in US dollars, is up 3.59% week over week. Regarding Bitcoin's hash rate, which serves as a measure of the network's computational power, it has managed to bounce around over the past 30 days. It has been losing daily by a rate of approximately -0.25%. A trend in hash rate that is unclear suggests that mining is becoming more uncertain in a way and that the chain is thus being a point to bear in mind. This may not help Bitcoin draw more capital to its chain.