How Did the Fab Five Finish?
Since the previous day, the five most-watched cryptos (Bitcoin, Bitcoin Cash, Litecoin, Ethereum, and Ripple) provided their holders with a return of 0.12%. Leading the way was Bitcoin, whose price is now around $9550.6 USD, which yielded holders a return of 3.15% from the day prior. On the flip side, the worst performer was Litecoin coming in at -4.41%; its price is now near $56.085854 USD. Out of the five coins observed here, three cryptocurrencies were up — which is a mixed sign for the crypto sector as a whole.
Simplify crypto trading. Track and trade your entire portfolio across ten different
exchanges
using
Quadency
.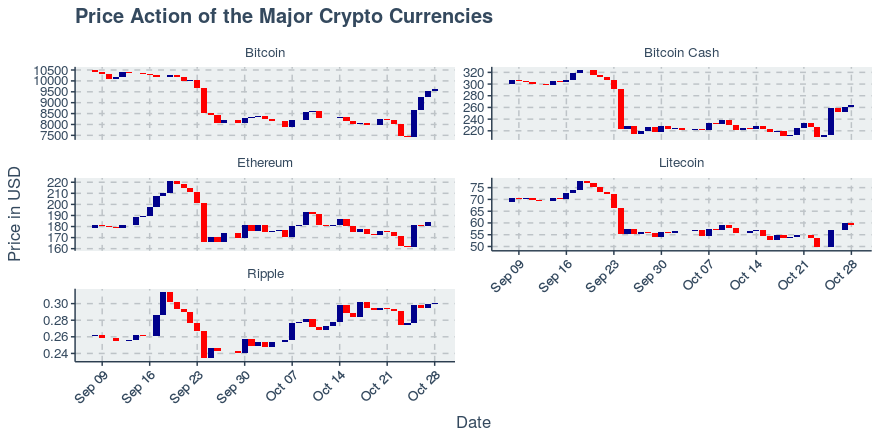 Key Technical Moves
XRP had an especially unusual move, in the sense that the move was much larger than its normal daily trading range. What caused this move might be worthy of further investigation. Traders may also wish to bear in mind the following events going on regarding current price patterns:
If you are looking for coins in a clear uptrend, consider Bitcoin Cash. It has been in a clear uptrend over the past 14 days.
XRP, Litecoin, Bitcoin, and Ethereum don't have a clear trend at this time, at least on a two-week timeframe.
Momentum traders will want to note that XRP and Litecoin are getting very close to their 20-day moving average. Many technical traders view the 20-day average as a wall of resistance that can slow a trend until it is cleared — at which point the trend may accelerate.
Insights from the Blockchains
Ripple recorded 1,475,018 transactions on its blockchain over the past 24 hours; that's the best of the bunch, and about 119% over Ethereum, which had the second-most transactions recorded on its chain. Ripple has a transaction fee less than the transaction fee of Ethereum, which may indicate that transaction fees might be a key reason why users are preferring Ripple. Bitcoin was the coin with the largest transaction across all blockchains yesterday; the largest transaction on its chain was valued at $44,675,088 US dollars. The circulating value of all Bitcoins now comes in at approximately $172.57 billion US dollars — which means Bitcoin accounts for about 67.82% of the entire cryptocurrency market. It's dominance has been in an uptrend over the past two weeks, going from 65.36% to 68.13%.