How the Fab Five Fared
Since the previous day, the five most-watched cryptos ( Bitcoin Bitcoin Cash, Litecoin, Ethereum, and Ripple) provided their holders with a return of 0.16%. The best performer of the bunch was Litecoin, which went up 0.65% and currently is sitting near $118.93 USD. In terms of the worst performer, that would be Bitcoin Cash, which reported a day-over-day return of -0.72% — a move that puts its price around $409.58 USD. In total, four coins were up from the day prior, which is a bullish sign for the sector.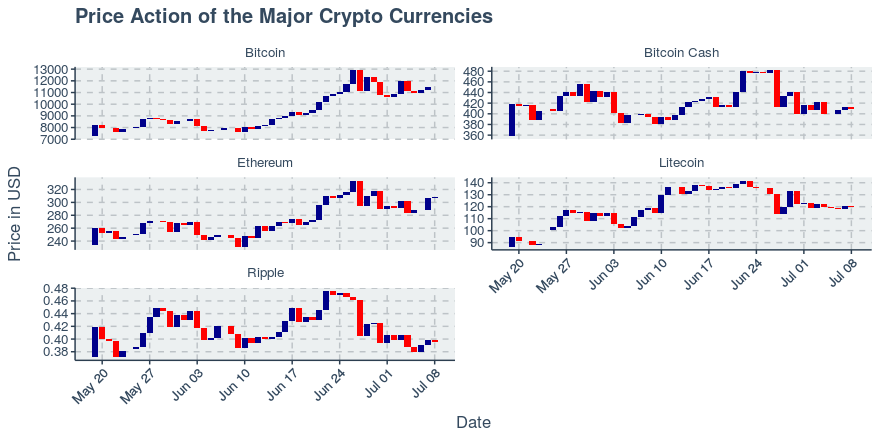 Key Technical Moves
Yesterday was a fairly normal day for all of these cryptocurrencies in the sense that they fluctuated within the normal daily range we have come to suspect them to move within. Technical traders may also wish to note the following developments in price action:
Currencies without a clear trend over the past two weeks are Bitcoin and Ethereum. If you prefer choppy, rangebound markets, they might be up your alley.
If coins without a clear downtrend are your thing, consider XRP and Bitcoin Cash. Those two have been in a clear downtrend over the past 14 days, and thus might be of interest to trend followers comfortable with short selling.
Insights from the Blockchains
Ripple recorded 1,126,253 transactions on its blockchain over the past 24 hours; that's the best of the bunch, and about 76% over Ethereum, which had the second most transactions recorded on its chain. Ripple has a transaction fee less than the transaction fee of Ethereum, which may indicate that transaction fees might be a key reason why users are preferring Ripple. Bitcoin was the coin with the largest transaction across all blockchains yesterday; the largest transaction on its chain was valued at $216,203,600 US dollars. Bitcoin continues to dominate the crypto market, with the total circulating value of its currency equal to approximately $203.84 billion US dollars. That's about 61.99% of the value of all circulating cryptocurrencies; this number is a slight decline from the day prior.