Bitcoin: What's the Latest Regarding its Price?
Bitcoin s price at the moment is clocking in at $8,773.82, which means that since yesterday, it is up about 0.02%. Yesterday's up day is a reversal of the day before it. In terms of trend, though, note that the current price is now 3.6% below its 20-day moving average, and is currently in a downtrend over the past 14 days. On the flip side, for those who prefer a rangebound view when trading, Bitcoin's trading range — based on its momentum and volatility over the past two weeks — is between $8,690.09 and $9,512.57 (in US dollars). The currency's market cap is now at $155.5 billion US dollars, and its market dominance — the percent of the entire amount of capital invested in cryptocurrencies that belong to Bitcoin — is at 65.71%. It may be worth paying attention to the trend in Bitcoin's dominance; the currency's dominance has been going down gradually, as it has reported an average daily decline of -0.19% the past two weeks. A decline in dominance may suggest the case for altcoins is getting stronger, and thus multiple cryptocurrencies may end up succeeding.
Want to trade Bitcoin Consider the following brokers: CoinDirect, Gate, Yobit, Stex, Binance, DDEX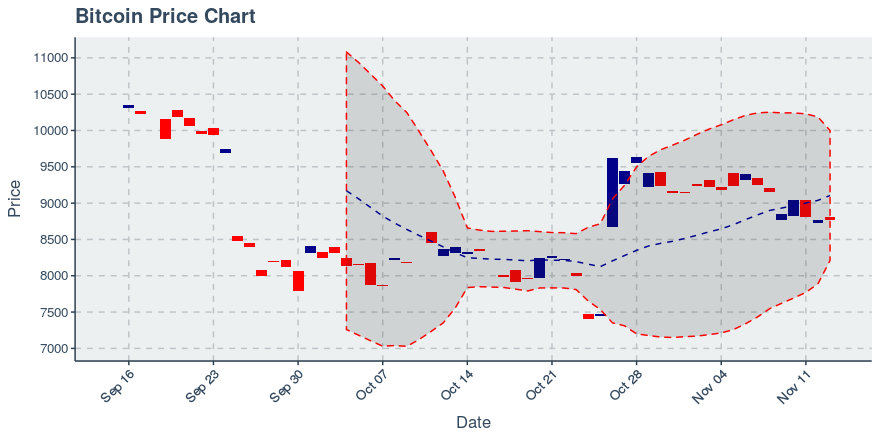 Straight Off the Chain
Yesterday, the Bitcoin blockchain saw 318,945 transactions recorded on it. Daily transactions recorded on the Bitcoin blockchain jumped by approximately 1.93% this past week, though it should be noted the trend is not clear at this time. Ultimately, if the currency does regularly succeed in growing transactions on its chain, its primary utility may be as a way to acquire goods or services. Yesterday, Bitcoin's average fee per transaction came in at $0.94. Transaction fees have been declining by approximately 17.51% per week, while the average transaction size is down 31.23% in US dollars. Last but certainly not least, Bitcoin's hash rate continues to trend downwards on a 30-day basis, losing about -0.43% per day. A trend in hash rate that downwards suggests that mining is becoming less computationally expensive and that the chain is thus a possible concern. This may not help Bitcoin draw more capital to its chain.