How the Fab Five Fared
In aggregate since yesterday, the "fab five" — Litecoin, Bitcoin Bitcoin Cash, Ethereum, and Ripple — were down -2.34%. Leading the way was Ethereum, whose price is now around $284.61 USD, which yielded holders a return of 0.53% from the day prior. In terms of the worst performer, that would be Litecoin, which reported a day-over-day return of -4.56% — a move that puts its price around $119.59 USD. One of the coins had up days, which indicates the almost the entirety of the sector as a whole moved down.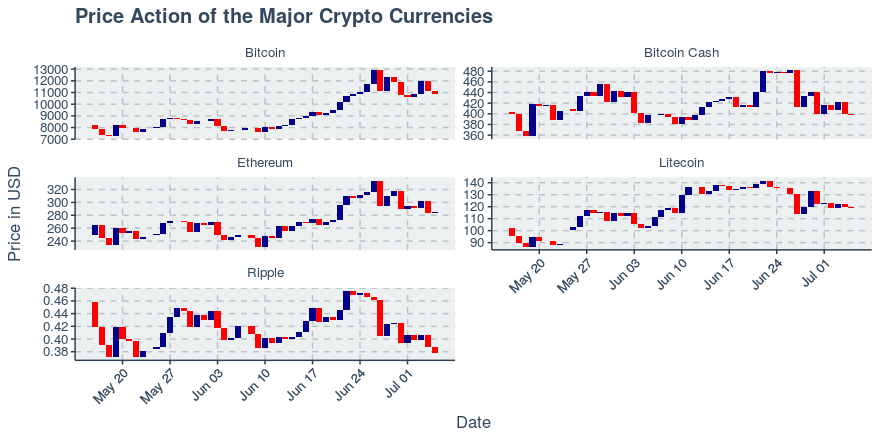 Key Technical Moves
None of the coins had moves that could be regarded as unusually large; all the moves were within the volatility ranges we've come to expect for each currency. Technical traders may also wish to note the following developments in price action:
Bitcoin doesn't really have a clear trend one way or the other. If you abide by the adage "the trend is your friend" well, then Bitcoin is no friend of yours. 🙂
If you're looking for coins clearly heading down, look no further than XRP and Litecoin.
Insights From Transaction Data
Ripple had more transactions recorded on its chain yesterday than any other coin; to be precise, it had about 67% more transactions recorded than Ethereum, which was the runner up for the day in terms of transactions recorded. Ripple's transaction fee was also less than Ethereum's, suggesting transaction fees might be a key reason why users are preferring Ripple. The largest transaction in the cryptocurrency space yesterday, coming in at a value of $179,913,856 occurred on Bitcoin's chain. Bitcoin's dominance of the crypto market remains intact, with it now accounting for approximately 62.14% of the value of all circulating cryptocurrencies Its dominance level has now remained above 62% for two consecutive days.