How Did Bitcoin's Price Fare Yesterday?
At the time of this writing, Bitcoin s price is $6,930.09 US dollars, down approximately 3.28% from the day prior. This marks the 13th day in a row that Bitcoin has been down, and the coin is trending down. It is currently 18.74% below its 20-day moving average of $8,528.724, which is somewhat far; prospective buyers may wish to wait for this gap to shorten a bit before jumping in. Alternatively, for those interested in trading ranges that Bitcoin bounces between, its current two-week trading range in US dollars is between $7,248.48 and $9,808.97. In terms of its overall importance in the cryptocurrency market, Bitcoin's current market capitalization is $120.5 billion US dollars, which is about 66.22% of the market capitalization of all cryptocurrencies It should be noted, though, that Bitcoin's dominance has been slowly moving up, reporting an average daily gain of 0.07% over the past 14 days. A gain in dominance may suggest the network effects surrounding Bitcoin are getting stronger, and thus participants of all kinds — investors, merchants, application developers — may flock to Bitcoin in increasing numbers.
Want to trade Bitcoin Consider the following brokers: CoinDirect, Gate, Yobit, Stex, Binance, DDEX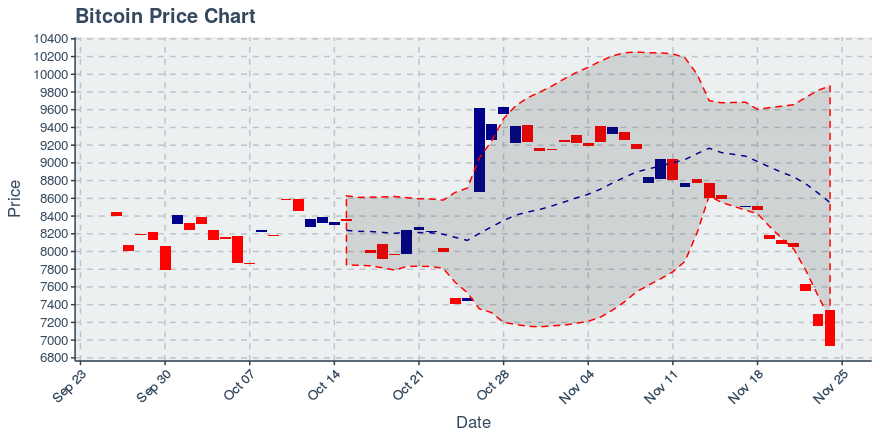 Straight Off the Chain
Yesterday, the Bitcoin blockchain saw 267,368 transactions recorded on it. Daily transactions recorded on the Bitcoin blockchain dropped by approximately 0.39% this past week, though it should be noted the trend is not clear at this time. If Bitcoin does not grow transactions, it may need to derive its value as a store of wealth. As for Bitcoin's transaction fees, the average transaction fee yesterday was $0.51 US dollars. The average transaction fee has been decreasing at a rate of about 2.46% per week, but the average amount of money sent in transactions, in US dollars, is up 27.71% week over week. In terms of how much computing power Bitcoin is using, over the past 30 days its hash rate has continued to bounce around, ultimately growing daily by approximately 0.19%. Given the unclear trend in bitcoin mining, it may be that hash rate is getting harder to understand; this could result in the chain's security being something to keep an eye on. From this perspective, this behaviour may not provide Bitcoin with the ability to earn greater trust from developers and investors alike.