Bitcoin Price Update
At the time of this writing, Bitcoin s price is $6,886.1 US dollars, down approximately 0.16% from the day prior. This marks the 3rd day in a row that Bitcoin has been down, and the coin is trending down. Since it is somewhat close below relative to its 20-day average price of $7,332.479, a climb up to the 20-day moving average may be needed before momentum buyers come in. On the flip side, for those who prefer a rangebound view when trading, Bitcoin's trading range — based on its momentum and volatility over the past two weeks — is between $6,918.62 and $7,746.34 (in US dollars). In terms of its overall importance in the cryptocurrency market, Bitcoin's current market capitalization is $120.08 billion US dollars, which is about 67.87% of the market capitalization of all cryptocurrencies Bitcoin's dominance level has been without a clear trend over the past two weeks, fluctuating between 66.52% and 67.87%. As its dominance level doesn't have a clear direction at the moment, one could argue it isn't clear yet whether altcoins will survive — or if Bitcoin will capture the entire market and the vast majority of use cases for cryptocurrencies.
Want to trade Bitcoin Consider the following brokers: CoinDirect, Gate, Yobit, Stex, Binance, DDEX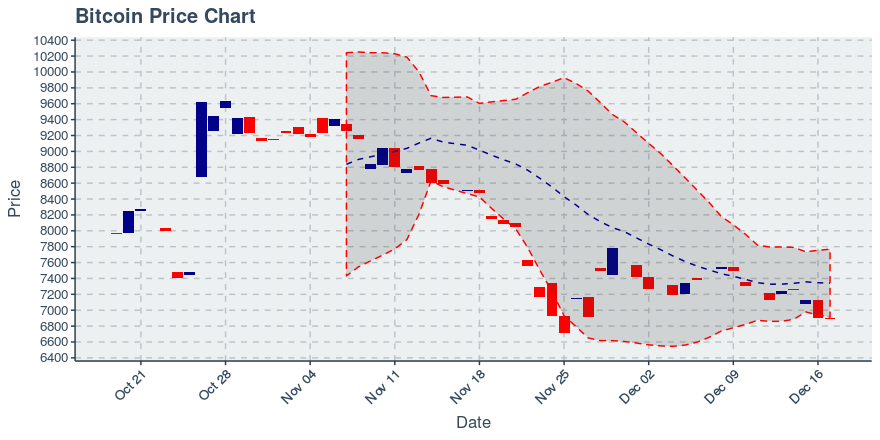 Update on Transactions and Hash Rate
Yesterday, the Bitcoin blockchain saw 327,085 transactions recorded on it. Daily transactions recorded on the Bitcoin blockchain dropped by approximately 2.22% this past week, though it should be noted the trend is not clear at this time. Ultimately, if the currency does not succeed in growing transactions on its chain, its primary utility may be as a store of wealth. As for Bitcoin's transaction fees, the average transaction fee yesterday was $0.48 US dollars. The size of the typical transaction on Bitcoin's blockchain is down 9.36% in US dollars; meanwhile, the fee for sending transactions has been decreasing by 3.97% per week. Last but certainly not least, Bitcoin's hash rate continues to bounce around on a 30-day basis, growing about 0.14% per day. Ultimately, the security of Bitcoin is being something to pay attention to, because the hash rate trend is unclear — which implies the trend in mining strength is now harder to understand. This may not help Bitcoin draw more capital to its chain.