Bitcoin Price Update
Bitcoin s price at the moment is clocking in at $8,394.28, which means that since yesterday, it is down about 3.67%. The down day for Bitcoin yesterday was a reversal from the day before it. Price now stands at 1.66% above its 20 day moving average, and over the past two weeks, price has been in an an up trend. On the flip side, for those who prefer a rangebound view when trading, Bitcoin's trading range — based on its momentum and volatility over the past two weeks — is between $7,570.63 and $8,943.89 (in US dollars). The currency's market cap is now at $151.57 billion US dollars, and it's market dominance — the percent of the entire amount of capital invested in cryptocurrencies that belong to Bitcoin — is at 66.47%. It should be noted, though, that Bitcoin's dominance has been slowly moving down, reporting an average daily fall of 0.29% over the past 14 days. A fall in dominance may suggest a growing opportunity for investing in other coins, and thus multiple cryptocurrencies may end up succeeding.
Technical analysis of Bitcoin for traders, plus the best of Bitcoin Twitter. Get it daily at CFDTrading.com.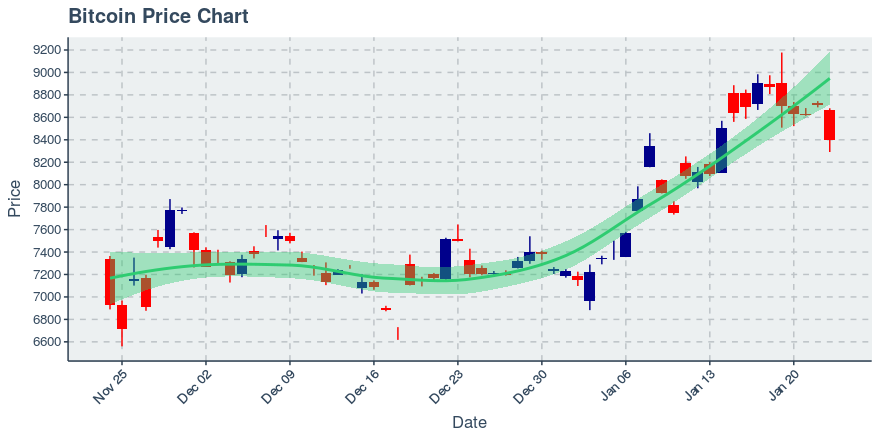 Straight Off the Chain
329,918 transactions were added to the Bitcoin blockchain in the previous day. Daily transactions recorded on the Bitcoin blockchain declined by approximately 1.69% this past week, though it should be noted the trend is not clear at this time. If Bitcoin does not grow transactions, it may need to derive its value as a store of wealth. In terms of transaction fees, the average cost for sending Bitcoin yesterday ended up being approximately $0.54 US dollars. The size of the typical transaction on Bitcoin's blockchain is down 18.48% in US dollars; meanwhile, the fee for sending transactions has been falling by 10.03% per week. In terms of how much computing power Bitcoin is using, over the past 30 days its hash rate has continued to trend upwards, ultimately rising daily by approximately 0.45%. Given the upwards trend in bitcoin mining, it may be that hash rate is getting more intensive; this could result in the chain's security improving. This may help Bitcoin attract more high value transactions.