How the Fab Five Fared
Since yesterday, the top five cryptocurrencies — Litecoin, Bitcoin, Bitcoin Cash, Ethereum, and Ripple — have gone up 2.17% in aggregate. The best performer of the bunch was Bitcoin Cash, which went up 6.85%. In terms of the worst performer, that would be XRP, which reported a day-over-day return of -1.7%. Four of the coins had up days, which is a bullish sign for the sector.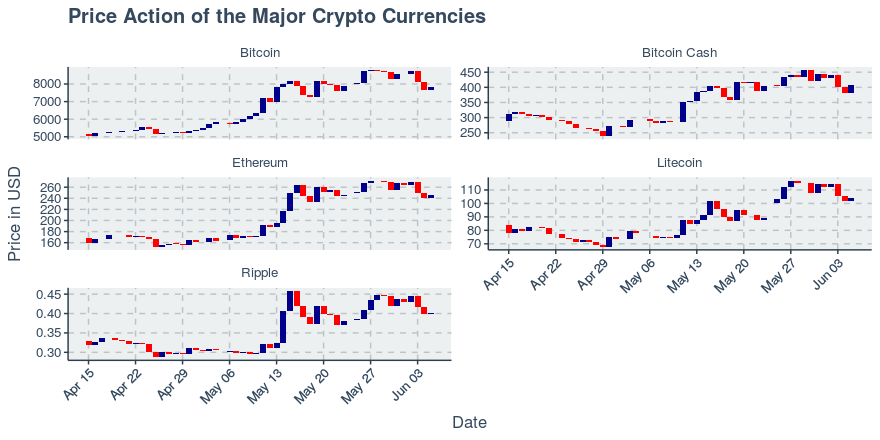 Key Technical Moves
Bitcoin Cash had an especially unusual move, in the sense that the move was much larger than its normal daily trading range. What caused this move might be worthy of further investigation. Technical traders may also wish to note the following developments in price action:
The crypto market as a whole seems to be lacking a clear trend; the five majors aren't showing signs of a bull or bear trend at the moment over the past 14 days.
Buy Bitcoin using a credit card
Insights From Transaction Data
The blockchain that saw the most transactions recorded on its blockchain over the past day was Ripple; its 912,285 transfers added was about 7% greater than the transactions recorded on Ethereum, which was the runner up for transactions logged on its chain over the past 24 hours. Ripple has a transaction fee less than the transaction fee of Ethereum, which may indicate that transaction fees might be a key reason why users are preferring Ripple. Bitcoin was the coin with the largest transaction across all blockchains yesterday; the largest transaction on its chain was valued at $565,375,552 US dollars. Bitcoin has the fewest coins in circulation relative to the other coins noted here, and its scarcity may make it appealing for those interested in making high-value transactions. The circulating value of all Bitcoins now comes in at approximately $ 137.97 billion US dollars — which means Bitcoin accounts for about 55.47% of the entire cryptocurrency market.