How the Fab Five Fared
In aggregate since yesterday, the "fab five" — Litecoin, Bitcoin Bitcoin Cash, Ethereum, and Ripple — were down -2.89%. Out of the aforementioned five, Litecoin gave investors the best daily return; it was up 1.7%, which has its price now near $73.25 USD. On the flip side, the worst performer was Bitcoin Cash coming in at -5.04%; its price is now near $292.15 USD. One of the coins had up days, which indicates almost the entirety of the sector as a whole moved down.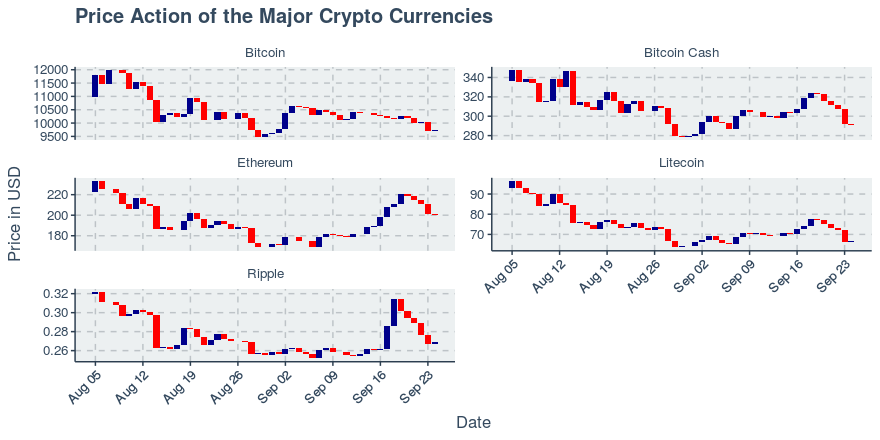 Price Action to Watch
Buy Bitcoin using your local currency
It should be noted that the price behaviour of Bitcoin and Bitcoin Cash was especially curious, as their moves yesterday were much larger than their respective normal daily trading ranges. Also of note for technical traders are the following developments in price action:
XRP, Litecoin and Bitcoin Cash don't have a clear trend at this time, at least on a two-week timeframe.
Bitcoin is in a clear downtrend on a two-week timeframe. This could an interesting opportunity for short-sellers.
XRP may be worth keeping an eye on, as its getting close to its 20-day moving average: it's 20-day average is at 0.267478726229933, while its current price is approximately 0.270877.
Also of note is that Bitcoin Cash just crossed its 20-day moving average yesterday.
Insights from the Blockchains
The blockchain that saw the most transactions recorded on its blockchain over the past day was Ripple; its 920,471 transfers added was about 48% greater than the transactions recorded on Ethereum, which was the runner up for transactions logged on its chain over the past 24 hours. Ripple's transaction fee was also less than Ethereum's, suggesting transaction fees might be a key reason why users are preferring Ripple. The largest transaction in the cryptocurrency space yesterday, coming in at a value of $80,238,136 occurred on Bitcoin's chain. Bitcoin continues to dominate the crypto market, with the total circulating value of its currency equal to approximately $175.16 billion US dollars. That's about 68.13% of the value of all circulating cryptocurrencies Note that Bitcoin's dominance level has been in a downtrend, going between 67.23% to 69.98% over the past two weeks.